Do you agree that one exercises more caution while under constant surveillance? A person inarguably is more careful with his work if he believes that he is being watched. Why a study found that the crime rate apparently came down by as much as 50% with the deployment of CCTV Cameras in a certain high crime area. Putting two and two together we can arrive at the conclusion that with the CCTV Installations, one enjoys better security and two, we expect increased productivity. Aren't these two reasons enough to have the CCTV cameras installed inside your premises?
The advent of Closed-circuit Television Cameras (CCTV) cameras is nothing short of a boon to the humankind. However, it's our responsibility to choose the right camera for the purpose.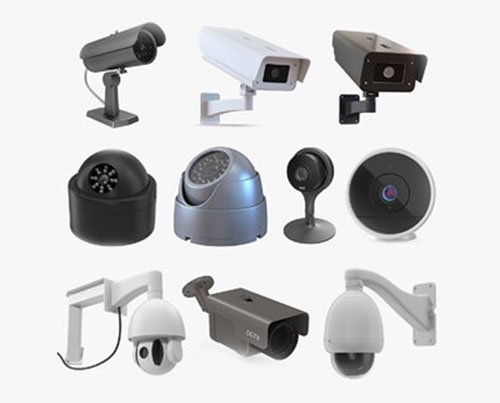 Listed below the 10 types of surveillance cameras offered today in the market:
1. Bullet Type Cameras:
These are ideal to capture the images of a specific, fixed area. These are easy to recognize with narrow, cylindrical built.
2. Dome Cameras:
As the name suggests, these cameras are dome-shaped in their built. These are clearly visible and wards off any danger whatsoever. These are ideal for in-store deployment.
3. Discreet CCTV:
These cameras are named after its functionality. These cameras do not give the criminals any inkling of its existence thereby pushing them to action and urge them to get caught.
4. Infrared Cameras:
These are designed to capture the images of the lowly lit areas with the help of the infrared lighting around the lens.
5. Day/Night Cameras:
Once again, the name gives away its functionality. These are used for 24/7 surveillance.
6. Varifocal Cameras:
Based on the requirement, the lenses zoom in and zoom out of the specific area without losing the focus.
7. Network Cameras:
Once again the namesake of its functionality. These cameras allow you to transfer the footages across the network.
8. Wireless Cameras:
As the name suggests, these cameras do not have any physical connection between the camera and the monitoring area.
9. PTZ Cameras:
Abbreviation of Pan, Tilt, and Zoom, these cameras allow the users to control the images they capture. They can be programmed to view certain things as the user wishes.
10. High Definition Cameras:
These cameras have high-resolution lenses which result in better picture clarity making the face of the culprits more identifiable. These are obviously used in the high-risk environments.
Deployment of CCTV cameras not just promotes the healthy and secure environment, but also encourages the harmony in the commercial and domestic premises. Get CCTV installations in Dubai today at Techno Edge Systems LLC. For more information and for CCTV installations contact us at +971-54-4653108 or visit us at www.cctvinstallationdubai.ae.